River Rafting Shore Excursions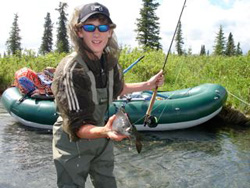 Alaska River Float Trips on Alaska's Wild Rivers are the ultimate way to get the best of all worlds. Whether you are looking for camping, scenery, fishing, hunting, or just lots of adventure, a wilderness float trip with Regal Air is the answer you are looking for.
Regal Air has been flying river rafters to the backcountry for over 25 years, and we pride ourselves on providing the best possible experience for our customers. We have experience in almost every river accessible from Anchorage, and can help you to decide which float trip will be the best trip for you and your party. Regal Air can also assist you in finding a guide fit your group.
We specialize in Lake Creek, Talachulitna River, Chilikadrotna River, Koktuli River, Stuyahok River, and many others!
Regal Air's most commonly floated rivers
Please select your float trip for more detailed information about the river and maps of the area
Class of Rapids: I-III
River Length: 86 miles
Drainage System: Mulchatna
Cessna Cost: $3960
Beaver Cost: $5375
Class of Rapids: I-II
River Length: 58 miles
Drainage System: Mulchatna
Beaver Cost: $6380
Class of Rapids: I-IV
River Length: 54 miles
Drainage System: Susitna
Cessna Cost: $1650
Beaver Cost: $2250
Class of Rapids: I
River Length: 42 miles
Drainage System: Mulchatna
Cessna Cost: $4450
Beaver Cost: $6710
Class of Rapids: I-IV
River Length: 52 miles
Drainage System: Susitna
Cessna Cost: $1375
Beaver Cost: $1870
If the river you are looking at floating is not on the list, not a problem, just give us a call and we will discuss with you the specifics of your river.
Choosing the Aircraft You Need
For planning purposes, here are the most common load profiles for the aircraft we operate. Keep in mind not all passengers weigh and pack the same.
The DeHavilland Beaver generally holds 3 passengers plus all gear for a rafting trip, with a maximum weight on most trips of 1250 lbs
The Cessna 206 generally holds 2 passengers plus all gear for a rafting trip, with a maximum weight on most trips of 850 lbs
The average raft for 2-3 passengers will be between 100 – 150 pounds
Which river best suites your experience level?
All rivers are rated by class of water – this class is identified by the difficulty and type of water. The International Rating System classifies rapids as follows:
Class I - Easy. Smooth water; light riffles; clear passages, occasional sand banks and gentle curves. The most difficult problems might arise when paddling around bridges and other obvious obstructions.
Class II - Moderate. Medium-quick water; rapids with regular waves; clear and open passages between rocks and ledges. Maneuvering required. Best handled by intermediates that can maneuver canoes and read water.
Class III - Moderately difficult. Numerous high and irregular waves; rocks and eddies with passages clear but narrow and requiring experience to run. Visual inspection required if rapids are unknown. Open canoes without flotation bags will have difficulty. These rapids are best left to canoeists with expert skills.
Class IV - Difficult. Long and powerful rapids and standing waves; souse holes and boiling eddies. Powerful and precise maneuvering required. Visual inspection mandatory. Cannot be run in canoes unless the craft is decked or properly equipped with flotation bags. Advance preparations for possible rescue work important.
Class V - Extremely difficult. Long and violent rapids that follow each other almost without interruption. River filled with obstructions. Big drops and violent currents. Extremely steep gradient. Even reconnoitering may be difficult. Rescue preparations mandatory. Can be run only by top experts in specially equipped whitewater canoes, decked craft, and kayaks.
Class VI - Extraordinarily difficult. Paddlers face constant threat of death because of extreme danger. Navigable only when water levels and conditions are favorable. This violent whitewater should be left to paddlers of Olympic ability. Every safety precaution must be taken.
Services that Regal Air can Assist With
Boat Outfitting – Regal Air is proud to work with the most reputable rafting outfitters in Alaska; we will help you arrange the right boat for your experience levels and group size. We can help you to have your boat delivered to our location before you arrived, and arrange to have it picked up when you are finished.
Map Data – On each of our float trip pages there is a list of all the USGS Quad Maps that cover your specific river. From our links page you can visit a USGS vendor to place you order for the perfect detailed maps of your entire river.
To purchase USGS maps there are numerous vendors online, one we recommended is www.topographicalmaps.com
Please contact us to book your River Float Trip with Regal Air