Alaska Bear Viewing at Brooks Falls in Katmai National Park gives you the world famous views of Grizzly Bears catching wild salmon as they stand atop a waterfall. There is no picture quite like it. Brooks Falls bear viewing is the true definition of a wilderness destination. It is located in the heart of Katmai National Park in south west Alaska. This one of a kind bear habitat is sure to please whoever visits.
Alaska Bear Viewing Tour: Brooks Falls in Katmai National Park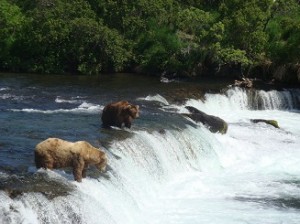 Your Katmai Bear Viewing Adventure Begins when you depart Anchorage on one of our aircraft and head south along the Cook Inlet.
You will fly either directly to Katmai via floatplane or on our twin engine aircraft and then via floatplane to Brooks Falls. Both options take approximately 2.5 hours one way, offer much of the same sightseeing along the way, and get you an equal time on the ground to see the bears.
Landing at Katmai you begin to see why Brown Bears choose to make this place their home. Salmon streams, mountain backdrops, large lakes, and thick forests surround you on this excursion. After getting out of the plane you will go through a quick bear orientation with one of the park rangers. From there it is off to explore this bear country. A short walk through the park to a bear viewing platform which will provide you with shots of a lifetime of bears catching salmon as they make their way up Brooks Falls.
Please Contact Us today to book your Bear Viewing Tour of Katmai National Park.
Katmai National Park Bear Viewing Details
Total Duration: 10 Hours
Cost: $1135.00 per person
Dates of Operation: June - September
Landing: Brooks Lake or Naknek Lake
Seating: 5 – 9 Passengers per aircraft

Brooks Falls Itinerary
| | |
| --- | --- |
| Depart Anchorage | 7:30 AM |
| Land at Katmai | 10:45 AM |
| Bear Orientation | 11:00 AM |
| Bear Viewing | 11:00 AM |
| Lunch | 12:30 PM |
| Bear Viewing | 12:45 PM |
| Depart Katmai | 2:30 PM |
| Land at Anchorage | 5:45 PM |
What to Bring and Wear:
Comfortable Shoes – These do not have to be hiking shoes, but no open toed sandals.
Camera
Binoculars
Layered Clothing – Always be ready for any temperature range, bring a rain shell in case of rain
Lunch
You are required to provide your own personal lunch or snacks on this tour. You are welcome to bring them from Anchorage but you must consume them in designated areas at Brooks Camp. Once you arrive at Brooks Camp there is a lunch option at the Brooks Lodge for approximately $30. It can be crowded here and there is limited seating time between 11:45p.m. and 2:00p.m.
Brooks Falls in Katmai National Park Bear Viewing Peak Times
June 25th – Sept. 10th (depending on the salmon runs)
Bear Viewing Facts:
Male Brown Bears weigh 300 – 850 lbs
Female Brown Bears weigh 200 – 400 lbs
Bears usually live 20 – 25 years
Brown Bears can run up to 35 mph
Alaska Bear Viewing at Brooks Falls in Katmai National Park with Regal Air is sure to be the experience of a lifetime!