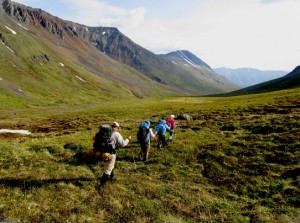 The trip begins at Lake Hood seaplane airport. You will then hop on a float plane and travel west to Turquoise Lake, located in the heart of Lake Clark National Park. Turquoise is the body of water resting directly north of the Twins and is separated by a fabulous high mountain pass. You will travel the high pass separating the lakes, as you retrace Proenneke's steps to his cabin. The next 3 days will be spent ascending high mountain peaks, traversing horizontal ridges and photographing Dall sheep in their natural surroundings. As you reach the lakes you will load into your kayak and paddle across the glassy water exploring the shoreline and casting for Trout and Arctic Grayling! Something will call to you as you glide over the crystal like, pure water surrounded by enormous, life filled mountains with the wind in your face and eagles screaming above. Its not a dream, its what Proenneke found over 40 years ago. It still exists today and now available to you!
Twin Lakes Mountain Trek & Paddle Details:
Total Duration: 7days/6nights
Cost: $4,600* (based on double occupancy) / $4,100* without 2 night cabin stay
Dates of Operation: Summer Season
Group Size: 2 - 10
* Group Discounts Available
Eco-Trekking Itinerary
Day 1: Depart Anchorage with Regal Air and travel west to Turquoise Lake. Turquoise lake sits between Telaquana and Twin Lakes in the heart of the Park. After setting up camp you will recline on
the alpine tundra and enjoy the spectacular view that lay east. Dinner will be served and your anticipation will grow as you look south to the mountain pass towering over camp. Night one will be spent in a high quality, roomy tent.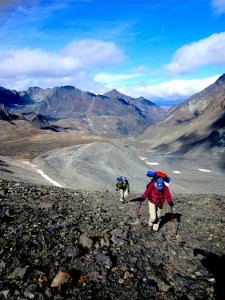 Day 2-3: Awaking early you will shoulder your pack and travel towards the high mountain pass separating us from the Twins. The hiking terrain is simply fantastic. Rolling gently upward over a bed of soft alpine tundra giving way to rocky outcropping and glacial erratics, the route will take us higher and higher towards the peak of the pass. Cris-crossing the small creek that drains the mountains towering overhead we will edge our way to the base of a saddle dividing the two drainage's before resting for the night. Numerous breathtaking waterfalls and chutes carry the water past us as we head south. Summiting the pass early you will drop down into the beautiful and wildlife filled Emmerson drainage. The following day will be spent moving your way south and exploring this high mountain wonderland filled with numerous bans of Dall sheep, Grizzly bears, mountain marmots, and amazing plant life. Evening two and three will be spend in a high quality, roomy tent.
Day 4-6: Arriving at the confluence of the Twin Lakes you will drop our packs in exchange for paddles. Jumping in your kayak, the fun will truly begin as we explore both of the lakes from top to bottom. The evening of day five will be spent at a remote mountain cabin where you will freshen up, build a fire in the wood stove and sip hot cocoa as you gaze over the lake sprawling before you. After a leisurely morning on day six, you will paddle to the famed Proenneke cabin. Our guided tour will give us more insight into the man that coexisted with this land in a way we all cherish and admire. What was he like? How did he handle the solitude? Who was this man they called the "bush hermit"? These questions and many more will be answered before you depart for a day hike to Teetering rock, a favorite thinking spot of Dick's. Our evening will end back at your cabin where we will rest by a lake fire, pondering the days events.
Day 7: After your last night spent in this mountainous paradise we leave you refreshed and with a true understanding of what Alaskan Adventure really is. Your trip will be culminated with a scenic flight through the Lake Clark National Park and the great Alaska Range as you head for Anchorage.
This trek is rated 3 of 5 on our intensity level. Although most days will require only moderate
exertion of energy, there are two days where the intensity level is elevated.