Alaska Bear Viewing at Lake Clark National Park is the ultimate bear viewing experience. Lake Clark National Park is located on the western shores of the Cook Inlet. This ocean front setting is the ultimate bear habitat. The creeks that run through the prairies are loaded with Silver Salmon, attracting resident Brown Bear populations to the areas all summer long. The tall grass and a backdrop of the Neacola Mountains make for the best pictures.
Alaska Bear Viewing Tour: Lake Clark National Park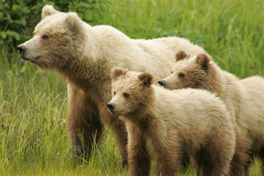 Your Lake Clark National Park Bear Viewing Adventure Begins when you depart Anchorage on one of our aircraft and head south along the Cook Inlet. The flight in itself will be a spectacular flightseeing tour; this scenic route takes you by 3 active volcanoes, numerous salmon streams, glaciers, and other Alaskan sights. The flight down takes about 1 hour, once there the aircraft will land on the beach at low tide. Once you are on the ground, your pilot will give you a brief bear orientation
The Lake Clark Bear Viewing Begins after a brief bear orientation aimed at group safety. You will head out into this ideal bear habitat to watch these creatures interact with each other in the wild. Your pilot will take you through the park, adding to your safety and answering any questions you may have about the bears. The area is excellent for viewing the bears because of the layout and geography; it is a long stretch of prairie grassland and beachfront. Watch as they frolic in the grass with their cubs, dig for clams, and take afternoon naps. Lake Clark National Park is beginning to be well known as the best bear viewing in Alaska, and for good reason. This area is home mostly to Brown Bears, but it is not uncommon to see a few Black Bears in the area as well.
This tour includes a hearty packed lunch!
Contact us today to book your Bear Viewing Tour to Lake Clark National Park.
Mobility Impaired: This tour requires a moderate amount of walking on uneven terrain (approximately 2-3 miles) If you are concerned about you or someone in your party's ability to do so, please contact the office as soon as possible. Don't worry, We have lots of other bear viewing options!
Lake Clark National Park Bear Viewing Details
Total Duration: 6.5 Hours
Cost: $795.00 per person
Dates of Operation: May 10th – Mid September
Landing: Lake Clark National Park
Seating: 5 Passengers per aircraft
Lake Clark National Park Itinerary
The following itinerary is subject to change based on factors such as tides, local weather, and bear activity.
| | |
| --- | --- |
| Depart Anchorage | 9:00 AM |
| Land in Lake Clark National Park | 10:15 AM |
| Depart Lake Clark National Park | 2:15 PM |
| Land in Anchorage | 3:30 PM |
Watch the Video:
What to Bring and Wear:
Footwear – Rubber or waterproof boots. If you do not have any boots, Regal will provide you with a pair.
Camera
Binoculars – If you do not have any you may share some with the bear guide
Layered Clothing – Always be ready for any temperature range, bring a rain shell in case of rain
Lake Clark National Park Bear Viewing Peak Times
May 25th – September 15th
Alaska Bear Viewing in Lake Clark National Park with Regal Air is sure to be the experience of a lifetime!