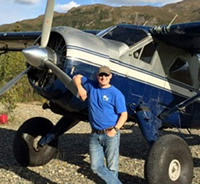 Nic Cunningham
Originally from the cornfields of Minnesota, Nic Cunningham first started flying for Regal Air in 2014. The opportunity to purchase Regal Air was given to him in 2018 and the rest is history.
Beyond aviation, Nic has over 10 years working within the Alaska Cruise ship industry and was also an International Alpine/Mountain Guide. He guided clients in some of the world's most remote locations and climbed to the summits of some of the world's tallest peaks including Denali (Mt. McKinley) in Alaska and Mt. Everest in Nepal.
Nic began a career in Aviation in 2010 and has a diverse resume including crop dusting in helicopters, bush flying in Alaska, and flying the Boeing 737 for Northern Air Cargo.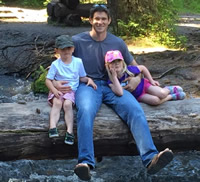 Mike Laughlin
Mike Laughlin was born and raised in Alaska. Mike was raised around aviation since a small child and got his pilot's license at 17.
Mike started his career with Regal Air as a dock hand in 1999, working for the original owners. In 2005 he attended college at Colorado State University and earned a degree in Engineering.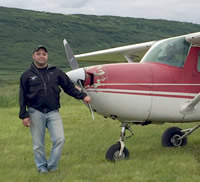 Tony Bannock
Tony Bannock was born and raised in Kenai Alaska. With a love for the outdoors and the travel industry Regal Air was a perfect fit.
Tony started with Regal as a seasonal dock hand in 2004. After a couple of years traveling around the state for a regional airline in Alaska
Tony came back full time in 2009. In his off time Tony enjoys flying around in his little airplane and spending time in the outdoors.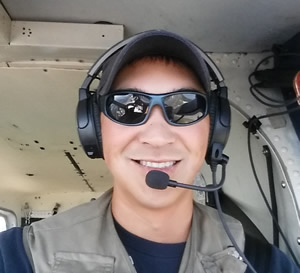 Devon Holmberg
Born and raised in bush Alaska, where aviation is a way of life, Devon grew up in airplanes and earned his Private Pilot license at age 17. His commercial ratings soon followed, and he landed his first flying job in 2006. He remained there for 10 years, the last 4 as Chief Pilot. During that time he and a cousin also owned and operated a small air taxi, specializing in off-airport mountain flying, with a Piper Cub, Cessna 206, and Cessna 180.
Devon joined the Regal Air team for the 2014 summer season and now flies for Regal year-round. In his time off Devon enjoys flying his Cessna 182, exploring new places to land and do some fishing and camping with his wife and anyone who wants to tag along.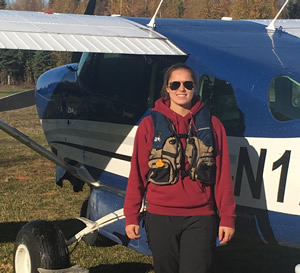 Marie-Sophie Boggasch
Marie-Sophie was born and raised in Germany. She came to the United States to join the University of Alaska Anchorage's gymnastics team on a scholarship. While still in college she started working as flight instructor, helping many individuals fulfill their dream of becoming a pilot. After graduating from UAA, the love of flying and the beauty of Alaska kept her in the state. In her free time she enjoys flying her plane, snowboarding, and eating cheese.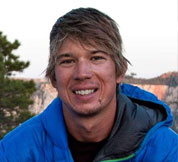 Kyle Kochan
Kyle is originally from Fullerton, California and has flown all across the lower 48 states; from banner towing in California to 1940s Biplanes in Florida. After flying in Alaska, he got hooked. In his spare time Kyle enjoys the outdoors and going on adventures such as biking and rock climbing. He also is very interested in photography.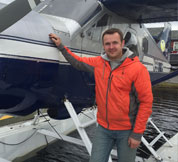 Billy Bredin
Billy was born and raised Alaskan. He has been floating around Lake Hood since 2001. He is an accomplished pilot flying anything from a Taylorcraft to a Boeing 737. Billy is also an airplane mechanic. In his free time he can be found on a remote river with his Super Cub trying to figure out how to catch a fish. He never catches anything, but his determination is inspiring.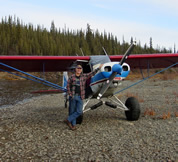 Dale Olsen
Dale moved to Alaska in 1997 for a flying job, and kind of forgot to leave! He has flown small airplanes in Alaska to points as diverse as Ketchikan in the South, Barrow in the North, Kotzebue and Nome in the West, and Dutch Harbor in the Southwest, with lots of points in between. With over 20,000 hours flying experience in airplanes equipped with wheels, floats and skis, Dale loves flying and loves showing off the Alaska bush.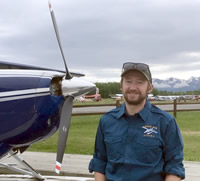 John Myers
A native of Ohio, John has called Alaska home since 2014. Prior to flying with Regal, John flew commuter turboprops extensively throughout the lower 48's mountain-west.
While in Alaska his flight experience has been concentrated in the state's northwest arctic region.
Bike riding, kayak paddling, mountain hiking, and book reading are some of his hobbies away from the cockpit.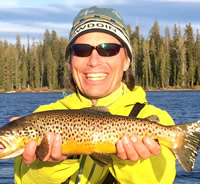 Bob Gammelin
Bob first came to Alaska in 1983 to work on Denali as a climbing ranger. Being flown into remote locations that season gave him the bug for flying, yet it took 15 years before he backed off climbing long enough to begin piloting small planes into the backcountry.
In the fall of 2018, his youngest kid started college, so in the spring of 2019 he began flying in Alaska. When not in Alaska, Bob lives in heaven in Wyoming, near Yellowstone National Park.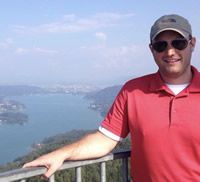 Jon Survant
Jon was born and raised in Owensboro, Kentucky and fell in love with flying as a young kid riding along with his father who is a private pilot.
He moved to Alaska in 2014 to study Aviation at the University of Alaska Anchorage and has since held a variety of jobs in the industry from flight instructing to flying private jets.
When he's not flying Jon enjoys riding dirt bikes, skiing, and being outdoors.