Alaska in home to unparalleled terrain and beauty. To truly understand the serenity and peacefulness of the nature in Alaska, a Regal Air Eco-Trekking adventure is the best way to do it. Let Regal Air drop you in the middle of a hikers paradise; beautiful mountain ranges, immense emerald green-blue lakes, rolling tundra, and scenery that will be with you for the rest of your life. Regal Air works with only the best guides who will complete your wilderness experience. We understand that for individuals who want to Eco-Trek, they do not want to be carried the whole way, we are the type of people who want to go out into the world to explore, experience, and to test ourselves. By choosing a guided option, we are there to supplement your trip with experience, safety margins, and great information and history of the area to enrich your experiences.
Eco Trekking Area: Twin Lakes in Lake Clark National Park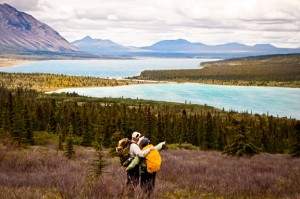 Beauty and history--- that's what these lakes offer that makes them like no other place. These glacier fed, twin-sister lakes are nestled in the heart of Lake Clark National Park's vast 4 million acres. Virtually untouched by man, the Twin Lakes region is renown for its breathtaking views, challenging mountain peaks and spectacular wildlife. There is no doubt Twin Lakes is one of the most beautiful destinations in all Alaska.
*Group Discounts Available
Twin Lakes Area History
What makes Twin Lakes especially unique is a man named Richard 'Dick' Proenneke. In 1968, at the age of 51, Dick had a dream to test himself in the wild of all wilderness. He chose Twin lakes for its remoteness and stunning beauty. His test was successful and his love for the land drove him to live here full time for the following 30 years. He was a master of the bushcountry and considered by some to be a "mechanical genius," building his own log home from scratch,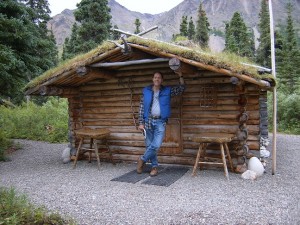 making his own tools, and even documenting his life on film. He was a naturalist and meticulous observer of the flora and fauna around him. He documented his observations daily into his journal, amassing thousands and thousands of entries detailing life at Twin Lakes. Dick's cabin still stands today and is a major attraction to the area. Due to its elevation, the surrounding area is not as congested with alders as in most areas of Alaska, so hiking is most enjoyable.
The wildlife viewing is some of the best the park has to offer. Black Bears, Moose, Grizzly Bear, Wolves and Caribou call this lake home. The Chilikodrotna River flows from the westerly lake and holds great opportunity for fly and spin fishing. Overall the Twin Lakes trip is a perfect balance of relaxation and challenging exploration. You will enjoy the evenings in a combination of high quality mountain tents while hiking and a rustic, wood fire heated cabin when on the Lakes.